Lai Chi Kok.Cheung Sha Wan Plaza
Located above the Lai Chi Kok  Station, new customers who apply for Lai Chi Kok service for 12 months will get an extra 2 months service period. The average monthly fee is as low as $86. We also provides a "24-hour online application" service, with a special "30-day refund guarantee" and "extended opening hour" to serve local entrepreneurs and SMEs for 20 years with the most convenient location and the best service.
Cheung Sha Wan Plaza, Lai Chi Kok​

Coworking space located above Lai Chi Kok MTR Station, an emerging point in West Kowloon. Open design different from tradition office, suitable for start upper and creative industry.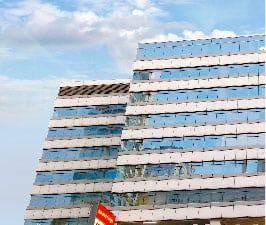 ADDRESS
PACKAGE (B)
Company Mail Handling Service

Update Business Registry Address (FREE)

*Free Accounting Service Consultation
COMMUNICATION
PACKAGE (D)
Everything included in Address Package (B)

Telephone service and notified by email

*Free Accounting Service Consultation
PROFESSIONAL
PACKAGE (E)
Everything included in Communication Package (D)

Call Transfer to Local Phone Number After Greeting

Direct Transfer to Local Phone Number or Voice Mailbox in Non-office Hour

*Free Accounting Service Consultation
*20% discount for 12 months prepayment (2 months additional service for free as welcome gift for new application); 10% discount for 6 months

*Monthly average for 12 months prepayment: (Original monthly fee x 12 months x 20% discount)/ 14 months
*Monthly average for 6 months prepayment: Original monthly fee x 10% discount
Dynamic Electric Directory Sign
6 months +HK$234 / 12 months +HK$432
6 months +HK$234
12 months +HK$432
# Under Companies Ordinance (Cap. 622), showing company name in the registered office is a must, or otherwise, every responsible person and the company shall be liable to a maximum fine of HK$10,000
Sending Mails to Assigned Address After Scanning
6 months + HK$1,188 / 12 months + HK$2,112
6 months + HK$1,188
12 months + HK$2,112
Other Conson Virtual Office
#virtual office hk #virtual office in hong kong #instant office hk #serviced offices cheung sha wan